Balloons and Room Dressing in Liverpool
Roaring Partyz cover all types of Balloons and Room Dressing in Liverpool. With our balloons, personalised banners, backdrops, light up numbers, cross and letters as well as candy cart hire and room dressing, we cover birthdays, christenings, communions, weddings, engagements and more!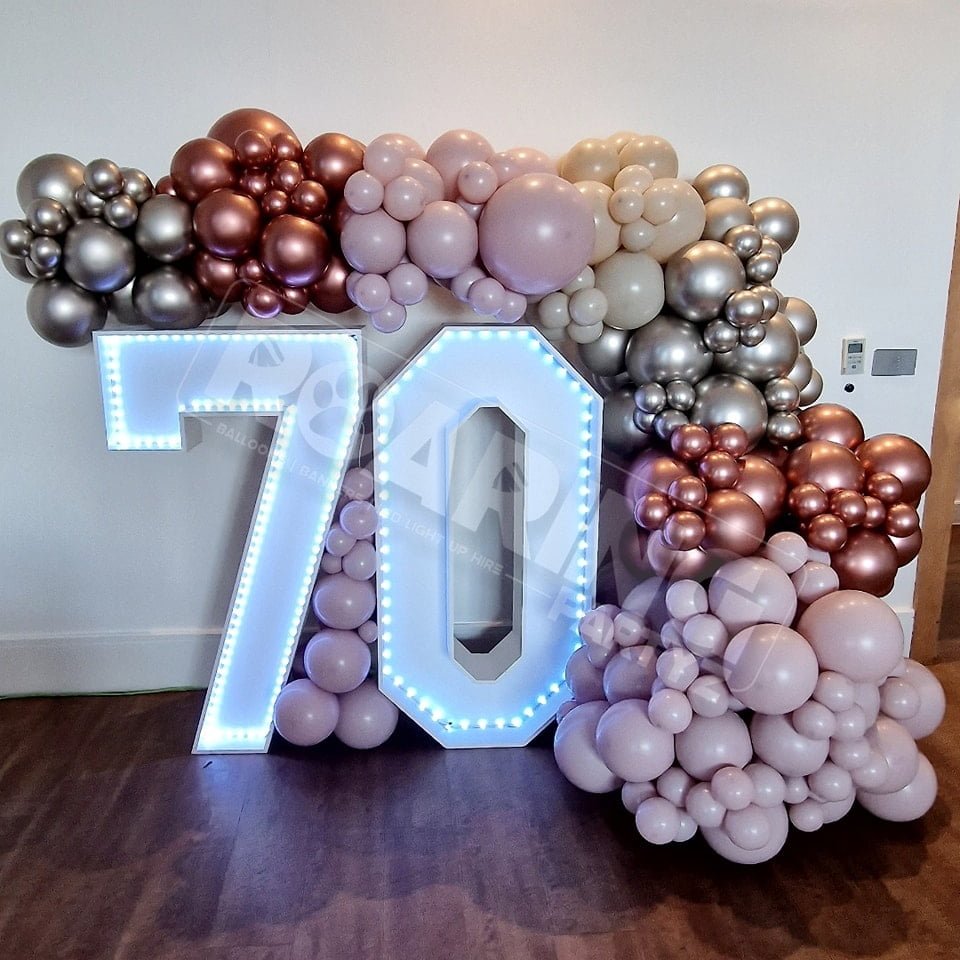 Light Up Numbers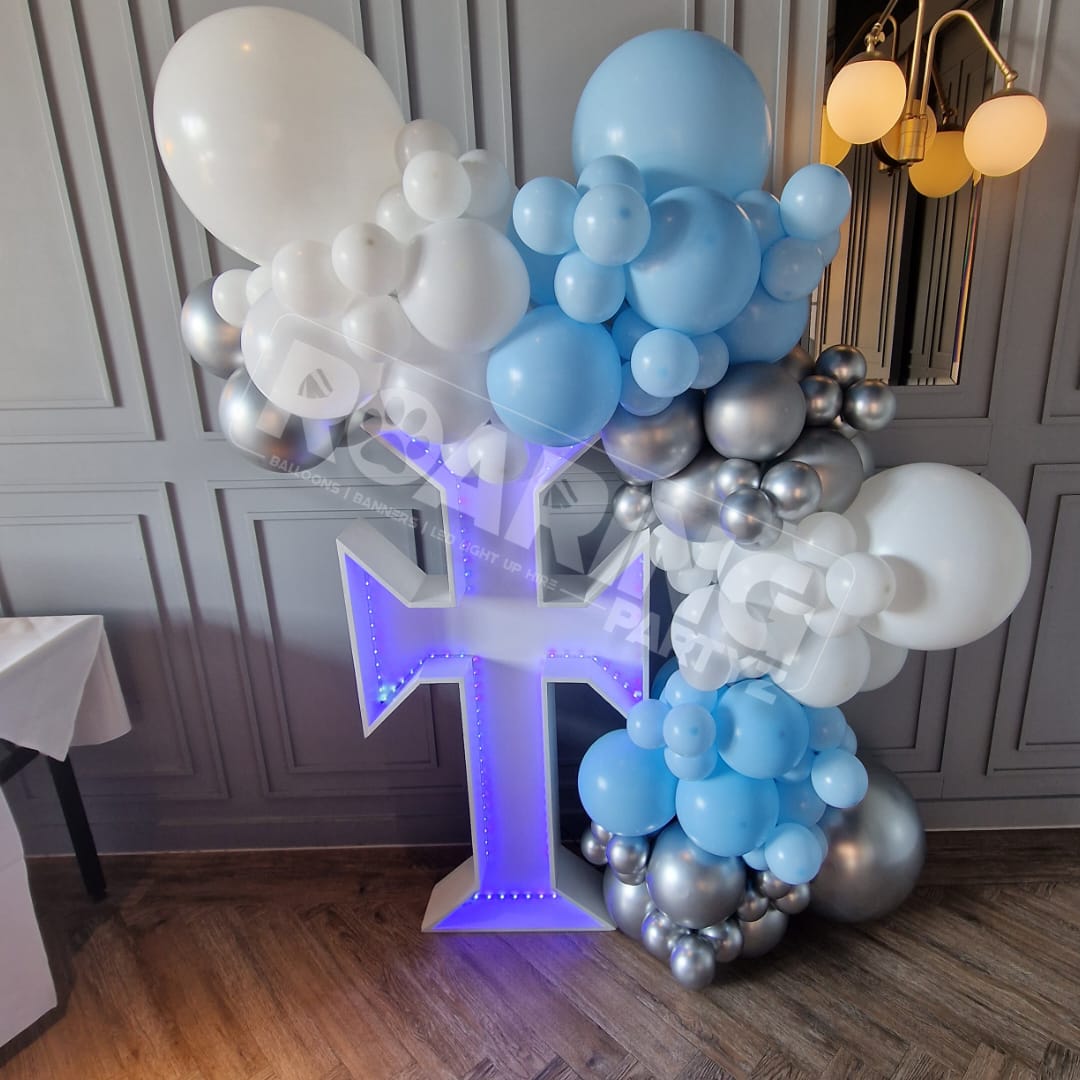 Light Up Cross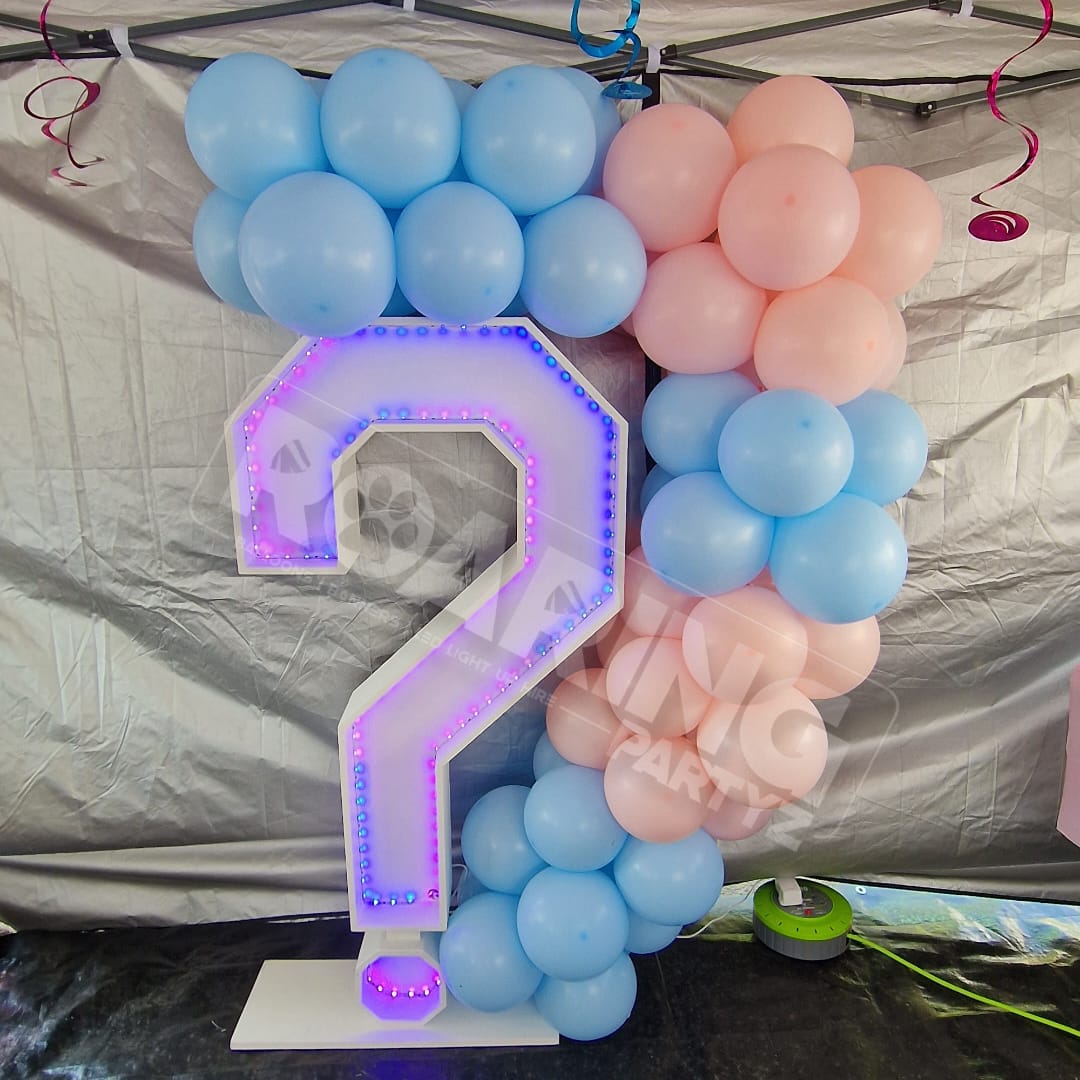 Light Up Gender Reveal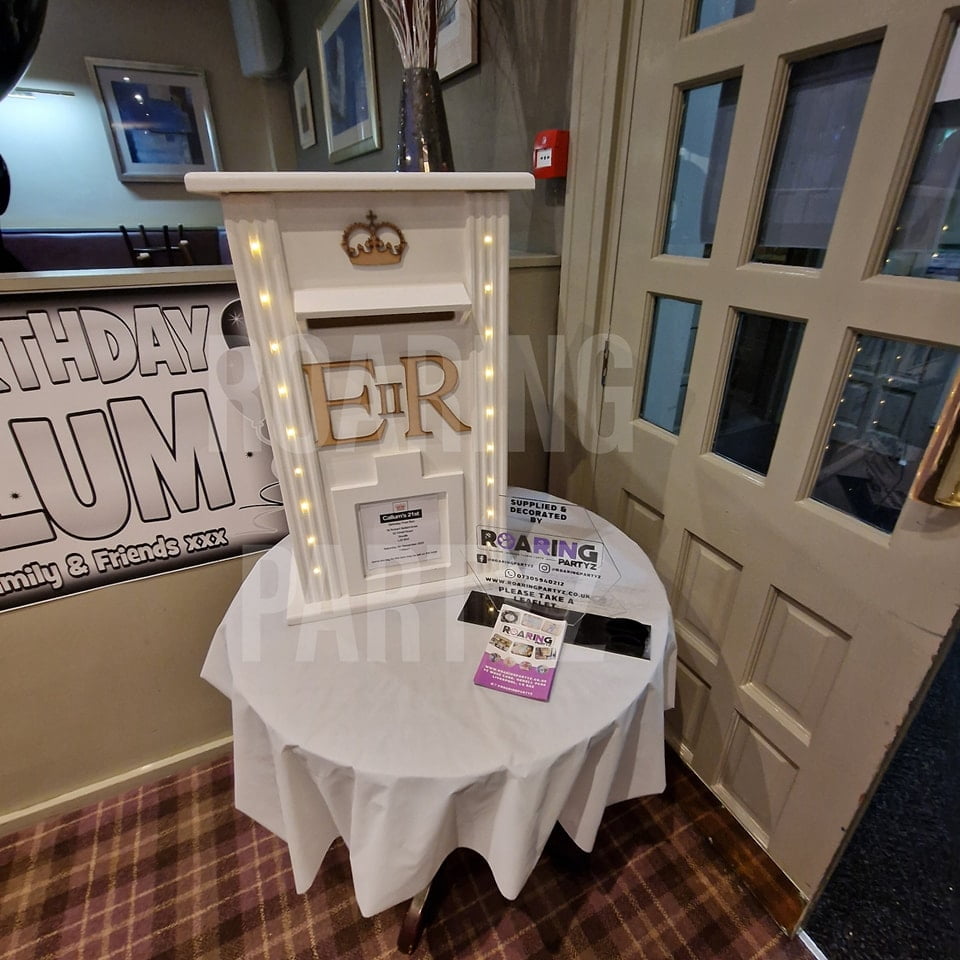 Light Up Post Box
Light Up Mr & Mrs
Packages
Balloons and Room Dressing in Liverpool
Elevate your celebration with our spectacular balloon and room dressing packages. At Roaring Partyz, we believe that every special occasion deserves to be filled with joy, colour, and enchantment. Our balloon and room dressing packages are carefully curated to add an extra touch of magic to your events, making them unforgettable experiences for you and your guests.
Key Features:
Versatile Themes: Our Balloon Packages cater to a variety of themes and occasions, from birthdays and weddings to christening, communions and baby showers. You can choose from a wide array of designs and colour schemes to suit your unique vision.
Balloon Artistry: Crafted with precision and creativity, our balloon arrangements are works of art. They feature vibrant colours, stunning designs, and innovative arrangements that will leave your guests in awe.
Customisation Options: We understand the importance of personalisation. With our balloon and room dressing packages, you have the freedom to choose balloon types, colours, sizes, and arrangements, ensuring your decorations align perfectly with your event's aesthetic.
Photo-Ready Decor: Create lasting memories with stunning photo opportunities. Our balloon arrangements combined with light up numbers, cross, letters as well as balloon hoops and frames serve as captivating backdrops for your event, allowing you and your guests to capture picture-perfect moments.
All-Inclusive Packages: Our balloon and room dressing packages are designed to simplify your event planning. They include everything you need, from balloon clusters and arches to chair covers, table centrepieces, welcome boards, light up numbers / cross / letters, balloon hoops and personalised banners making it easy to transform your space.
Professional Installation: Our experienced team handles every detail, from the initial design concept to the setup of your room dressing and balloons. If you're hiring our light up numbers, chair covers, balloon hoop etc, we also remove them for you. You can relax and enjoy your event while we ensure that your decorations are flawless.
Affordable Luxury: We believe that beautiful decor should be accessible to everyone. Our balloon and room dressing packages offer premium-quality decorations at competitive prices, allowing you to celebrate in style without breaking the bank.
Let our Balloon Packages transform your event into a celebration of wonder and delight. Whether you're marking a milestone or simply celebrating the joy of gathering, our balloon arrangements are the perfect addition to create an atmosphere of festivity and happiness.
We're a family run business with big ideas and strive for nothing less than customer happiness. We have been in the balloon business since August 2017. What ever the budget and whatever the location in the L postcode area we can help make your event sparkle. Choose from preset packages or dress your room with our custom package, the choice is yours!
Images in our packages are taken from popular venues around Liverpool and Merseyside including full room dressings at Bootle Football Club, St Robert Bellarmines in Bootle, Mel Inn on Hawthorne Road, Crosby Cricket club and The Ferndale Lodge in Waterloo. We can dress any room in the Liverpool postcode covering areas such as Walton, Kirkdale, Orrell Park, Fazakerley, Bootle as well as further out in Speke, Woolton, Aigburth, Old Swan, Prescot and Huyton.
Check out our social media channels, Facebook, Instagram and Tik Tok for examples of our work.
Neon Lights Now Available
Corporate Balloons
Balloons for your Business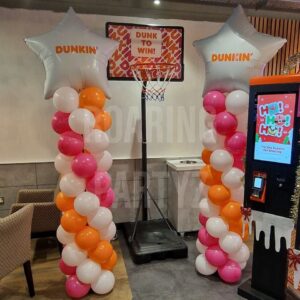 Elevate your corporate events with customised balloons. We understand that corporate events are more than just meetings; they're opportunities to make lasting impressions and strengthen relationships. Our corporate balloons can come with complete with your company's logo and colour theme. Having a promotional event? Your balloons can be customed to match the theme, however out there the colour scheme is! Our corporate balloons are designed to make your event and brand memorable and impactful.
Make your corporate events unforgettable and reinforce your brand's message with our corporate balloons. Whether you're hosting an awards event, a product or store launch, staff party or an annual gala, our balloon decor is the perfect addition to create an atmosphere of professionalism and excitement.
Since 2019 we have helped brands including TJ Hughes, Goals Soccer Centres, Cinnabon, B&Q, Heron Foods, Dunkin Donuts and Fred Olsen Cruise Lines. We would love to add you to our growing portfolio! We cover the whole of Liverpool so whether your new store or event is in the City Centre, Speke, Bootle, Anfield or Woolton, if it has a L postcode, we cover it.
Contact us today to discuss how our corporate balloons can enhance your event decor, promote your brand, and make your corporate gatherings more engaging and visually appealing. We're here to help you achieve your corporate event goals with style and flair!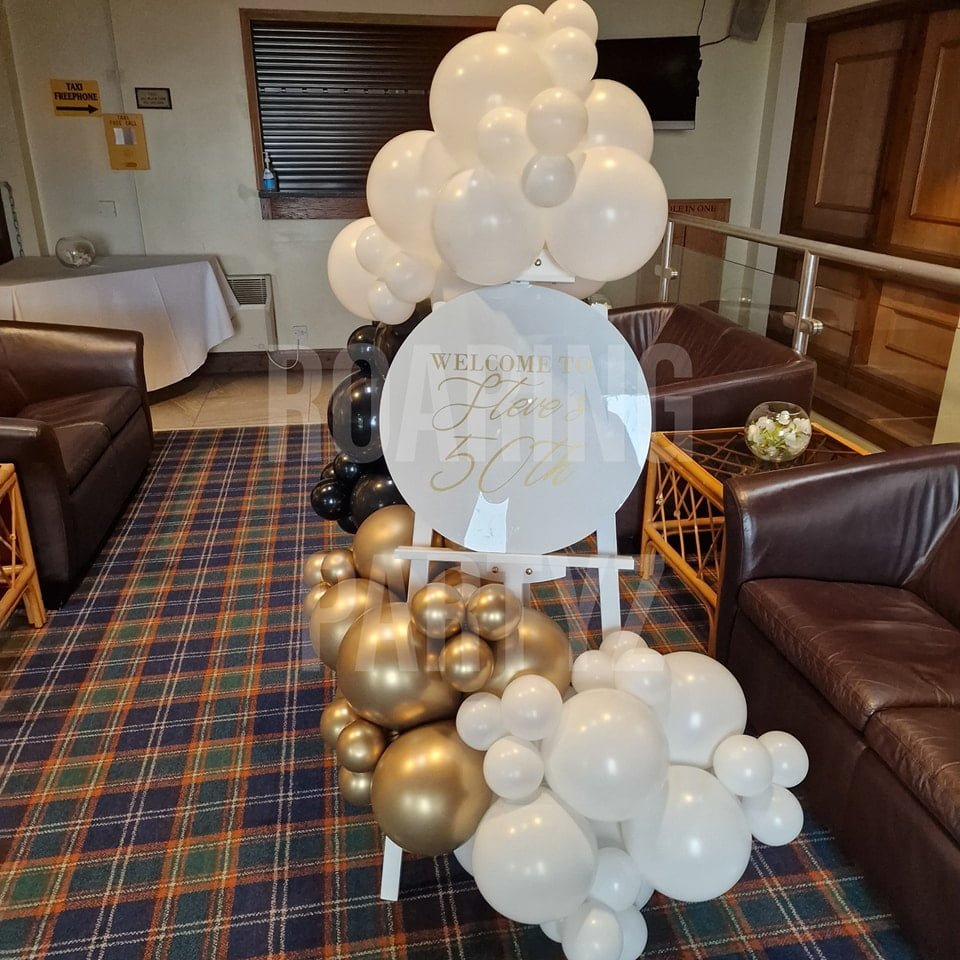 Personalised Welcome Board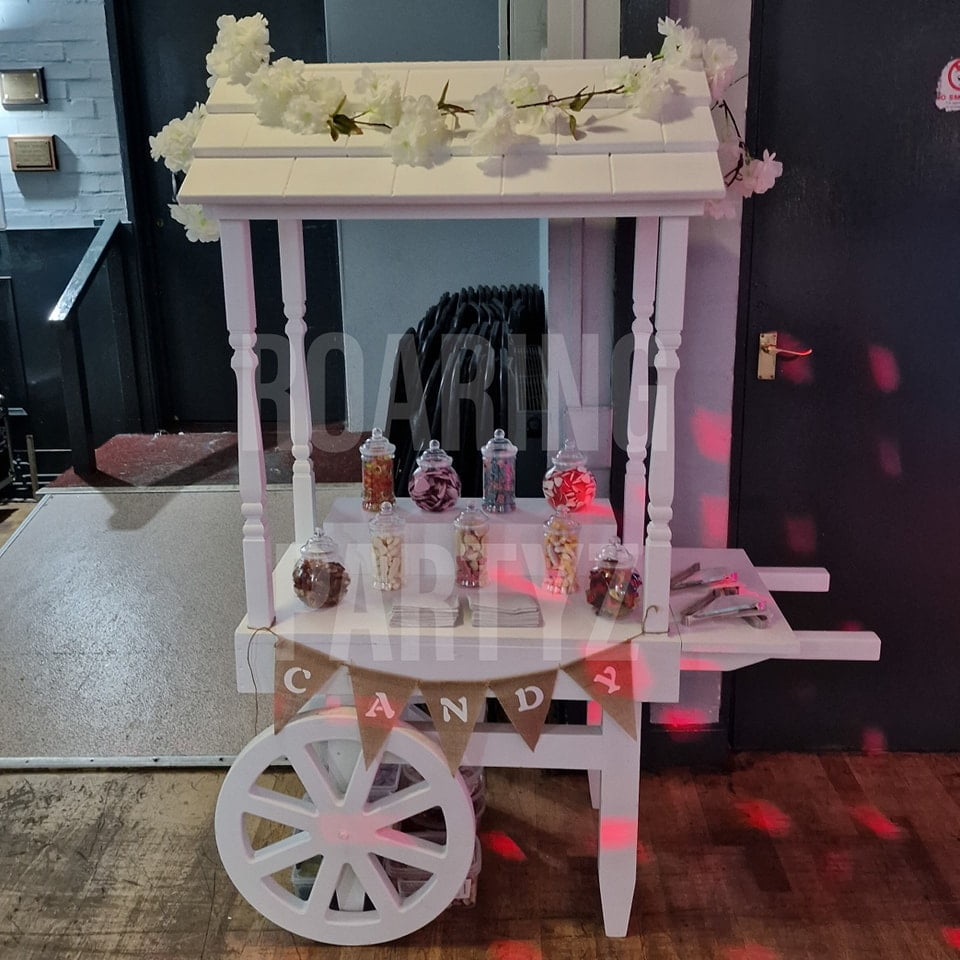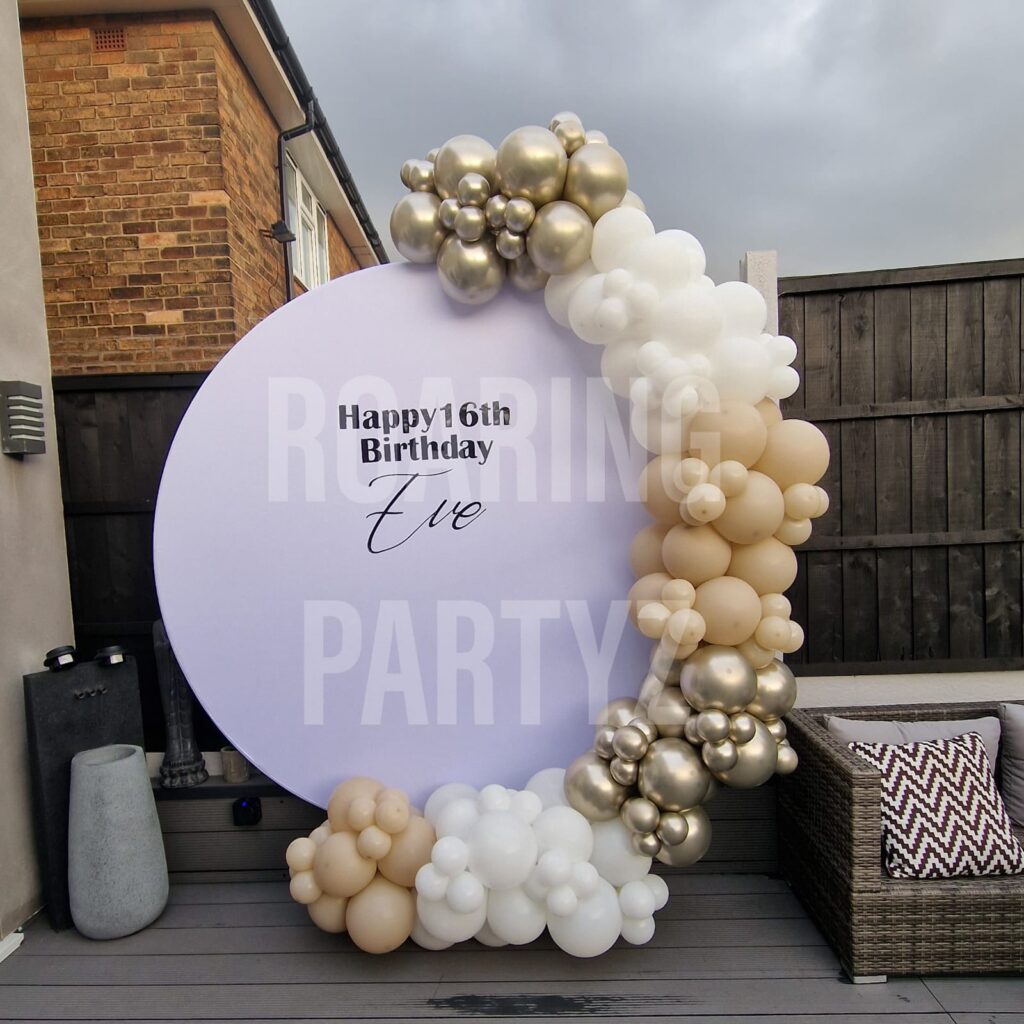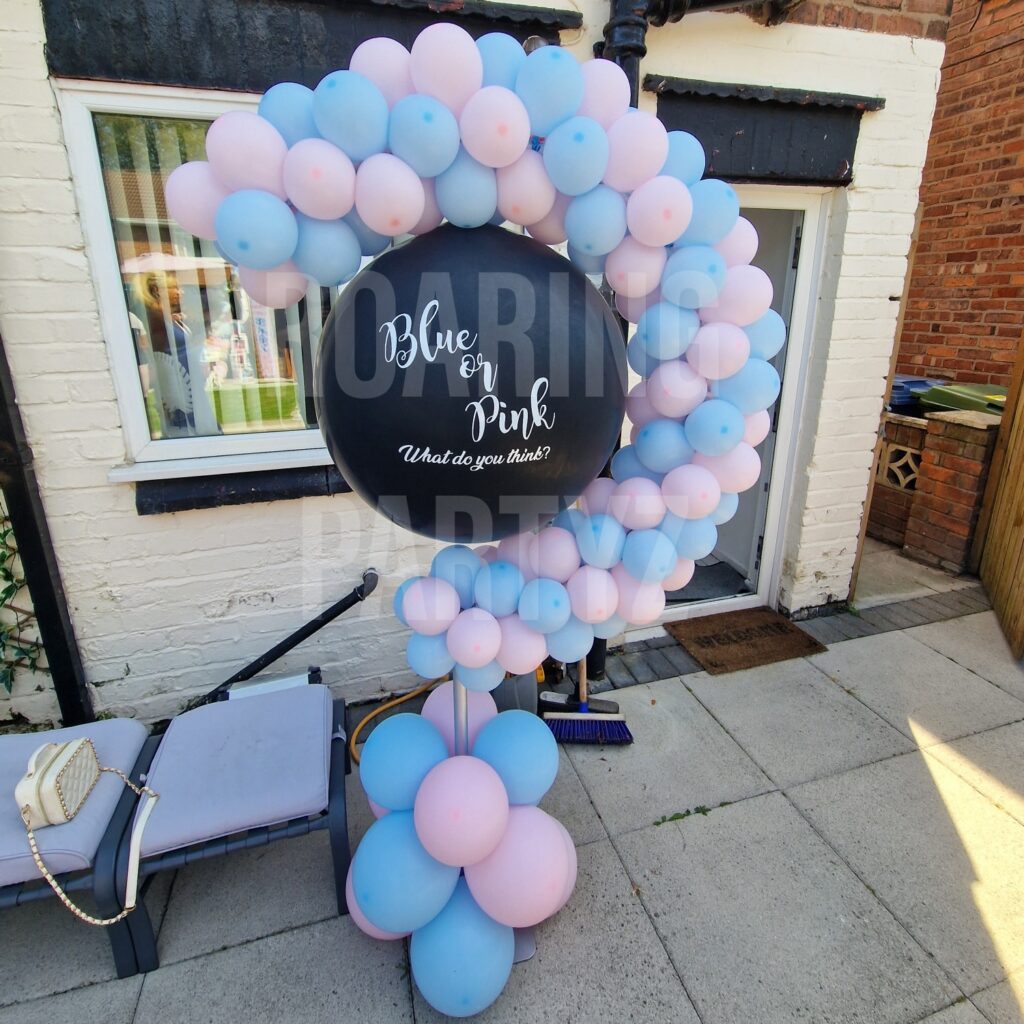 Personalised Banners
Ready in as little as 24 hours!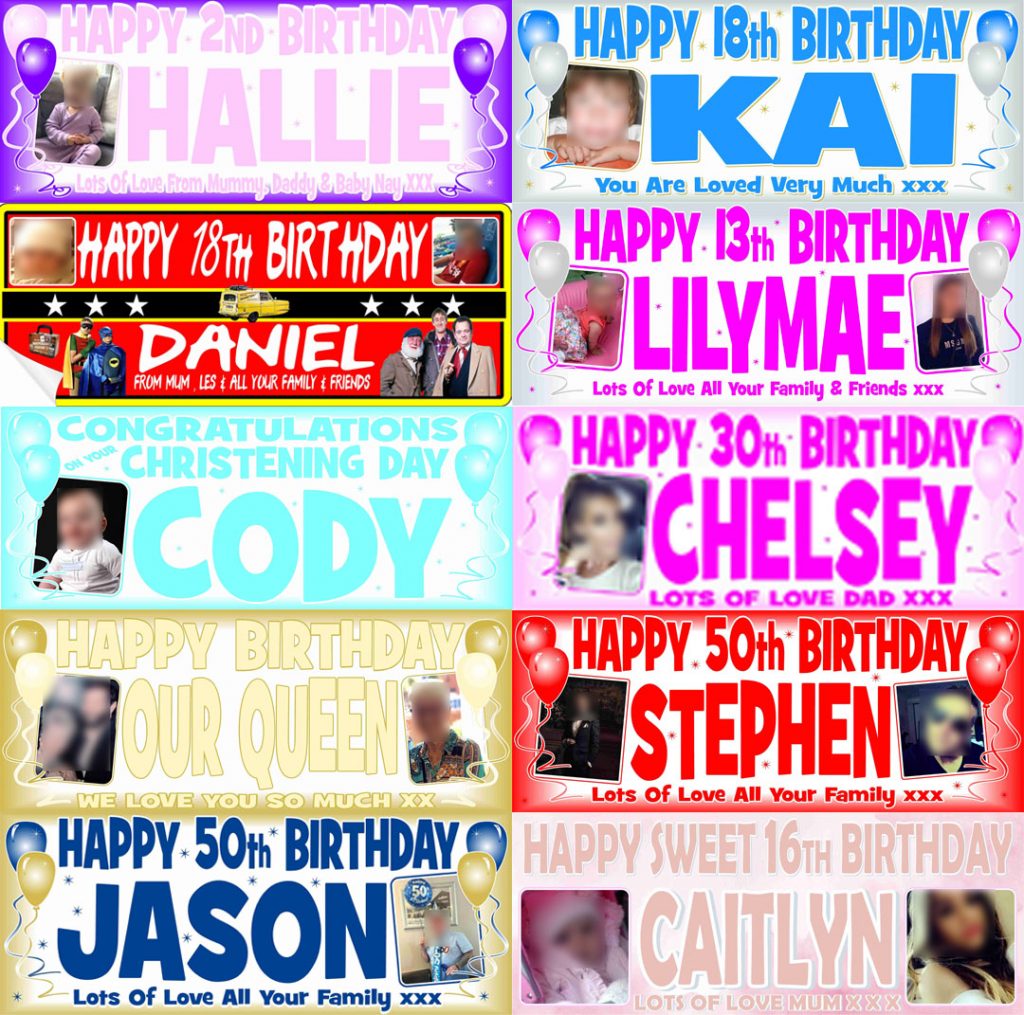 Create unforgettable memories with personalised banners. At Roaring Partyz, we understand that special moments in life deserve to be celebrated in a unique and meaningful way. Our personalised banners are the perfect canvas to turn your ideas and emotions into stunning visual displays, making your events and special occasions truly one-of-a-kind.
Key Features:
Tailored to You: Our personalised banners are designed to reflect your individuality and style. Whether it's a birthday, anniversary, wedding, or any special occasion, we can do them for any event
Limitless Creativity: Let your imagination run wild! We offer a wide range of customisation options, including various sizes, themes, colours, and graphics, to ensure your banner perfectly matches your needs.
Premium Quality: We believe that every banner should be a work of art. That's why we use high-quality materials and printing techniques to ensure that your banner is not only beautiful but also durable and long-lasting.
Photo: All our banners come with up to two pictures included in the price.
Versatile Use: Our banners are suitable for any event, from intimate gatherings to grand celebrations. Whether it's a milestone birthday, a retirement party, or a business event, we have the perfect banner to suit your needs.
Professional Design: Our experienced design team is dedicated to turning your ideas into reality. We pay meticulous attention to detail to ensure your banner is a true reflection of your personality and message.
Convenient Delivery: If you're unable to collect from our shop, we take the hassle out of banner creation. Whether you're in Liverpool, Bootle, or the rest of the UK, simply place your order, and we'll deliver your personalised banner to your doorstep, ready to make your event truly memorable.
Let our personalised banners be the focal point of your celebrations, adding a personal touch that elevates your event from ordinary to extraordinary. Whether you're marking a momentous occasion or simply celebrating a loved ones birthday, our banners are the perfect canvas for your unique story.
Sizes come in 5ft, perfect for your function room parties or a window poster and 6 strip banners, perfect or house based celebrations. Our full banner set contains all of the above with added bonus of a discount for buying the full set! Delivery is available to Liverpool and the UK Mainland.
Roaring Partyz
Testimonials
I have been working with these guys for years now! With lots of hard work and timely communication, they made sure they delivered the best to me. Highly recommended! Forgot to send these and say a massive thank you for her balloons and posters! The balloons are still going strong they haven't gone down even slightly yet and in Bellas words they were the "most perfect butterfly balloons"???? you've done her 3rd 4th and 5th birthday now and we'd never go anywhere else xxx
Amazing party shop. Beautiful balloons and banners at fab prices. Staff are lovely, too. I ordered online for collection, and it was ready and waiting for me at the stated time.
I would give more than 5 stars if possible just picked up my daughters balloons for her 18th birthday they are absolutely stunning they look exactly like the photos. Really great price as well can't say how happy I am.
Hey honey. Just a little message to say thanks once again for Farrahs balloon. Everyone kept asking me where it was from they all loved it just as much as I did. By the way it still hadn't gone down after nearly 4 weeks xx
Absolutely amazing people, I was ordering a balloon tower online and was a bit unsure whether I had ordered correctly so messaged the page and got loads of help and so friendly as well which was great for me being stuck in Northern Ireland trying to organise stuff for my uni student daughter in Liverpool ? also very decent prices, highly recommend and will definitely be using again
Balloons and Room Dressing in Liverpool!
Roaring Partyz sell and hire Balloons, Personalised Banners, Light Up numbers & more in Liverpool. The list also includes balloon hoops, sail boards, candy carts, it goes on and on! You can order through this website, social media and in store. Delivery is also available to any L postcode. We offer UK delivery on some personalised balloons and banners. In five years our little business has grown massively from starting off from our home in Bootle, Merseyside doing balloons for family and friends, we now operate out of our new shop on Moss Lane, Orrell Park, Liverpool, selling and delivering balloons to Liverpool, Sefton and Knowsley, in fact the whole of Merseyside is covered so long as it has a L postcode. If you don't come under Merseyside we can still send a balloon in a box to anyone in the UK whilst you don't have to leave your seat!
From starting off delivering simple balloons, we now personalise them and create custom unique designs, whilst keeping the cost as low as possible.
Over the years we have been delighted to complete work for other businesses starting with Cinnabon. We have now worked with B&Q, Sovini, Hilton, Fred Olsen Cruises and Heron to name but a few! Drop us a message through our Corporate page for a quote for your business.
Light up Numbers and more!
As we have grown as a business we have invested to keep up with the big guys! As a result our small family run business is now delighted to offer for hire our 4ft LED Light Ups including numbers, cross, question mark and Mr & Mrs. To finish a room we also offer chair covers and sashes, 2ft Light Up Post Box, gender reveal frame, 5ft Candy Cart and most recently our brand new 6ft sail board!
Areas covered
We have covered many miles delivering balloons for birthdays, communions, christening, new babies & so much more for parties in Liverpool! You can also hire light up numbers and letters in Liverpool areas such as Orrell Park, Walton, Fazakerley, Norris Green, Croxteth, Everton, Kirkdale and Anfield. Knowsley areas such as Huyton, Prescot and Kirkby. Sefton areas Bootle, Maghull, Netherton, Waterloo and Crosby. Further a field we also cover Old Swan, Tuebrook, Childwall and Mossley Hill. That is not to say we don't cover Speke, Aigburth, Garston or Halewood. Or how about Woolton, Wavertree and Belle Vale? We cover them all! In fact if it is in Liverpool or with an L postcode, we deliver there!